Get
Multiple

Job Offers the Next Time You Interview - with 'Personalized' Interview Coaching from a Nationally Known Expert
If you could have a private coach prepare you for every job interview you ever went on, would you be interested?
Would you give up a cup of coffee a day for the next month to have that coach work with you for FREE for the rest of your life?
Watch as "The Sales Recruiter" tells you about the benefits of her Audio Coaching.
If you are serious about your career, keep reading...
Dear Sales Professional,
Lean in close, closer….let me tell you a secret… ...the last time I interviewed for a job, I got 5 offers! Yes, I said 5 offers within 4 weeks. I was able to compare and contrast those 5 offers and choose the 1 offer that I accepted. How did I do that? I used the 30/60/90 day sales plan! Imagine, the next time you interview for that fantastic sales opportunity, you are the most prepared candidate that interviews! Your phone rings, it is the manager telling YOU that they are extending you an offer! You get the job. No more disappointing interviews where you just felt like you were a step away but not there…. Tell your wife or husband or dog, this time will be different, because you will be different.
You will have the secret weapon
in the interview process!
When I started my recruiting firm in 1999, I would suggest to candidates that they consider using the 30/60/90 day sales plan in the interview. Then I started noticing that the candidates with the plan got the job. So then I started blogging about the plan and I started receiving emails from people who had landed their job and wanted me to know that the 30/60/90 day sales plan was what made the difference! One sales representative used the 30.60.90 day sales plan in his internal interview for a sales management position. He was promoted and received a $22,000 increase in his base pay!
You can get a $22,000 increase in your pay too! How? By landing your dream sales job using the 30.60.90 day sales plan in your interview process!
The 30/60/90 day sales plan got them the job offer!
So now, I want to give you the opportunity to change your fortune, change your life, and change your career. This plan will get you the job offer when done correctly.
Why does it get you the offer?

To complete, it requires that you do your homework on the job and the company

It demonstrates to the hiring manager that you are willing to do tasks that aren't required but that will secure a successful outcome.

It gives you a starting point to change the interview from a back and forth Q & A session to a real discussion between two professionals.

Talking about the plan in the interview gives you a unique opportunity to demonstrate your communication skills, your understanding of the job and your ability to do the job successfully.

It provides another opportunity to interact with the hiring manager because you can make changes to it after the interview (and you have heard the hiring manager's opinion on different parts and pieces of the plan) and resend it to the manager. This coupled with the thank you letter will impress any manager!
So if now is the time for you to make a career change, this is the missing tool in your job toolkit that you need.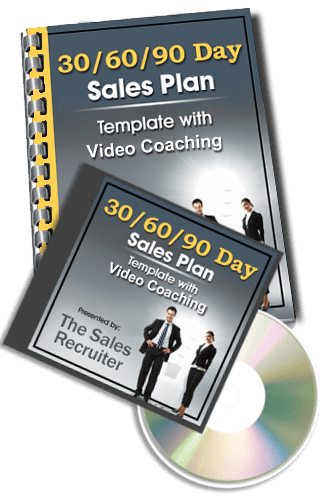 (Download the 30/60/90 Day Sales Plan w/Audio Coaching for just $97)
You Get "World-Class" Coaching Too!
The template is not all you get. You get a step-by-step walk through where I tell you 'in my own voice' exactly what to do when you prepare the 30/60/90 day sales plan. This information has been gathered and complied by me from my experience over 10 years with hundreds of companies and thousands of jobseekers. You will receive customized instruction for each section of the plan, plus instruction on EXACTLY how to present the plan during the interview.
Normally, my consulting fee for job seekers costs $250 per hour. In this template there is more than 30 minutes of concentrated, non-stop tips, tricks, tactics, and instruction. If you and I were having a conversation by telephone (which is how most of my consultations are delivered) it would take much more than an hour for me to deliver all of this information. That makes the audio portion alone worth more than $250. Then if you add the templates that we sell for $47 -- the products part alone would cost you more than $297. But the information that we have compiled for you here is not available ANYWHERE else... it is practically priceless. Some of priceless information you will receive:
| | |
| --- | --- |
| | What kind of paper you should use for your plan (hint, you wouldn't think of this) |
| | Tips on how to "Knock their Socks Off" in the first five minutes |
| | Why you should have more than one copy of EVERYTHING you bring to the interview, and how many you should have |
| | How to create the 'psychological' mood that will magically get you the offer |
| | How to keep from playing 'ping-pong' in the interview |
| | How to create a cover page that really impresses |
| | Why your picture has no place in the plan or on your resume |
| | What's the 80/20 Rule and why it is important in your plan |
| | How to set yourself up for success in the interview process |
Customer Feedback - K. Lannon
"The audio coaching was
what really set this system apart."

The sales plan samples were relatively helpful but the audio coaching was what really set this system apart. The templates provided were easy to follow and understand, and the audio coaching went into the necessary detail to explain anything that was questionable. I had no idea what to expect going into it.

I was directed to the 30/60/90 day sales plan by a relative who works in the field. As a new graduate and new to the corporate interview process, I was able to efficiently prepare for the interview as well as effectively research the company. I sincerely believe that the 30/60/90- day sales plan put me out front. The preparation needed to complete the sales plan, helps to bring to light so many details about the company that you feel that you could answer any question they have of you and relate it directly back to their sales/ performance in a relevant way.

Knowing technical details or specifics really stands out to the recruiter because it shows them that you prepared for THIS job, not just any job. Several Senior Managers and VP's that I interviewed with informed me that I was prepared well beyond what they expected, and that this kind of preparation really shows my dedication and forward thinking. I would definitely recommend this product, without hesitation.

K. Lannon
British Columbia

Just this information would be more than most people would need to rise head and shoulders above the crowd. But I'm not done yet. You get even more, I'll show you:
| | |
| --- | --- |
| | How to prove that you already know how to do the job |
| | How to make the hiring manager 'see' you as already hired |
| | How to build a team of mentors once you are hired |
| | Be considered an expert on CRM before you are even hired |
| | How to create your training program if the company doesn't have one |
| | How to identify the 'fastest' way to increased sales |
| | Find out which companies in your territory aren't worth having |
| | Where to find the 'new customers' that will make you a hero |
| | How to protect yourself from fall-out over unhappy customers |
| | And much, much more... |
All of this information will help you make a 30-60-90 Day Sales Plan that is sure to impress any hiring manager. But, that STILL isn't all, I will show you the MOST IMPORTANT THING...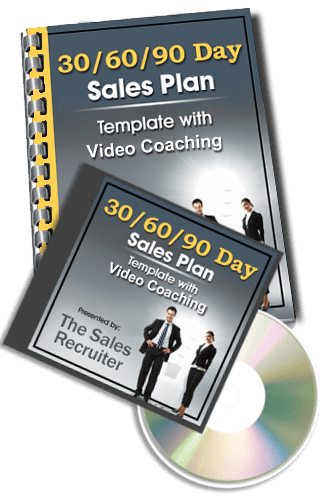 (Download the 30/60/90 Day Sales Plan w/Audio Coaching for just $97)
How to
PRESENT

the Plan during the Interview

The last page of the document is really the 'meat' of the sandwich. Without this crucial instruction, you won't be nearly as impressive as with it. In fact, I'm willing to bet that if you were to interview against a candidate, even one that has purchased my 30/60/90 Day Sales Plan Template without audio coaching, you will have an almost UNFAIR advantage over them. You see, without my audio coaching they won't be able to know what you know. There is no place else to get this information. It is only in the 30-60-90 Day Sales Template with Audio coaching. ONLY if YOU purchase the template with Audio Coaching will you learn:
When in the interview is the BEST TIME to present your plan
How to really compliment the manager without 'kissing up'
What questions YOU should ask while presenting the plan
What information is VITAL for you to gather from the manager while you are presenting the plan
What to do with the information the manager gives you
EXACTLY how to phrase key phrases so you can 'brain-wash' the hiring manager
How to ask questions that will put the hiring manager on YOUR team
When to 'stop selling' yourself in the interview
How to 'close' and

ask for the job

What you MUST do to close the loop and GET THE OFFER and WHEN you must do it
What critical steps that, if missed, could BLOW your opportunity
Don't go on another interview without getting the offer
If you don't see the priceless nature of all this information, I would suggest that you scroll back to the top of the page and re-read what I've written here. Once you do that, you should want to get this invaluable resource RIGHT NOW! You can get the entire audio coaching session audio PLUS have a custom 30-60-90 day sales plan for your next interview in less than 60 minutes with this template. 4 steps:
| | |
| --- | --- |
| | Just cut and paste the template into your own word document. |
| | Review the parenthesis (these are my tips and hints for customization). Add all of the personalization that we suggest. |
| | Delete all the parenthesis, and ….viola! You have a custom 30.60.90 day sales plan to review with the hiring manager in the interview! |
| | Click the audio 'controls' for each section for the step by step instructions for that section. |
Don't ever go to another interview for a job
that is perfect for you without this tool.
And once you have a completed document, you can use it for the rest of your professional career. You can easily change it for each opportunity. And once you land your dream job and have contributed to the organization – you will be interviewing for promotions within your company. Guess What? The 30-60-90 day sales plan will get you that promotion! It will help you prepare for the interview – because of the thought process and then help you land the job because of the conversation that it causes between you and the hiring manager! This will be your secret tool that will impact your life in a very significant way! What would a raise in base pay mean to you? What would a stronger commission plan mean for you and your family? Are you ready for a sales role but no one is taking you seriously? This document will change the way you are viewed in the interview. It will position you for success. How much is worth to you to know that you have the strongest presentation when interviewing for the job of your lifetime?

"Iron Clad 365 Day Money Back Guarantee"

I'm never satisfied unless you are more than satisfied. So here is my simple 'no small print' guarantee. Try the "30 60 90 Day Sales Plan with Audio Coaching" and put it through the wringer. Try every strategy, tactic, and technique included in my system as many times as you like - listen to the audio coaching over and over and over again for a full 12 months.

You be the judge. If it doesn't deliver everything that I have promised, or if you are unhappy with it for any reason at all, I will buy it back from you for $100 cash (more than your original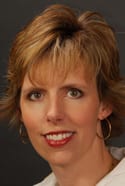 purchase price.)

I have no problem whatsoever making this seemingly crazy guarantee, since I've worked with candidates thousands of times using these same tactics -- I KNOW they work. Fair enough?

"You have my personal guarantee"



Peggy McKee
The Medical Sales Recruiter
Don't wait another minute to have the document that you will use to get where you need to go in your career.

Bonus — Peggy's Favorite Power Words
valued at $37
Purchase right now and you will get our bonus pack that includes: Peggy's Favorite Power Words - a list of over 150 powerful words that will add punch to your sales plan. This is a $37 dollar value on its own, yours free with the purchase of the 30/60/90 Day Sales Plan Template

Brand NEW - Just ADDED
8 PowerPoint Template Designs
We've just made the 30/60/90 templates even better. We added eight PowerPoint templates w/ title page and 4 pages for your plan. Right now these are included - for a limited time only - so purchase now before we make these a separate charge. [Preview the templates]
Customer Feedback - Anthony R.
"I am recommending PHC Consulting
to all of my friends"

"I have to thank you and your organization for producing the very helpful content and most importantly, the coaching.

Over the weekend, I was about to create a 30/60/90 plan for my interview this week. Before I began, I thought I'd just do a quick web search to valid my approach. I was so glad to have found your site.

Your template improved the document I had planned to write and saved me at least four hours in preparation. Secondly, the audio coaching provided excellent insight and tips on how to customize the plan and use it to take charge of the interview.

I had my interview yesterday with a very well known firm that is famous for its rigorous interview tactics. I received high marks from everyone I met and it opened up the conversation. By using the plan, I was able to direct the conversation of the interview to areas in which my strengths were highlighted.

Lastly, having gone through the process of writing the plan with your coaching, I was more confident during the interview and able to discuss how I will solve problems for the company. I am recommending PHC Consulting to all of my friends who are also looking for a new job."

Anthony R.
Software Industry Sales
California

Buy now! Customize your plan now!
Invest in yourself. Invest in your career. Set yourself apart from the flock of candidates that hiring managers see…. If you are still not ready to see how a 30-60-90 day sales plan with audio coaching will transform the interview process from a painful interrogation that ends in a "thanks, but no thanks" email note, then sign up for our newsletter and tips sheet that will keep you up to date on the latest in sales jobs and interview tips.
You may also want to consider checking out our lower priced products. They require more work on your part and they don't contain the priceless audio coaching, but they will give you a leg up on your competition. Check them out on our 30/60/90 Day Plan Templates page.
Wishing you great success…


Peggy McKee
The Sales Recruiter
PS - check out our other products for jobseekers, or our blog.
The 30/60/90 Day Sales Plan with Audio Coaching is part of the growing family of career related products and services offered by Career Confidential. Visit our website for more information.